The Alfonso del Cristo Hilsaca organization increases the impact of giving with hands-on assistance and management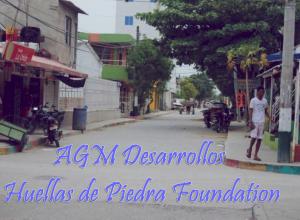 Alfonso del Cristo Hilsaca, AGM Desarrollos, AGM The Huellas de Piedra Foundation helps families in Cartagena
The direction and sincerity of the company in the effort to assist the AGM of the Huellas de Piedra Foundation
CARTAGENA, BOLIVAR, COLOMBIA, May 4, 2022 /EINPresswire.com/ — At the start of the Covid19 pandemic, it was clear that potential difficulties were going to be a near certainty. For Alfonso del Cristo Hilsaca, that meant the foundation whose AGM Desarrollos sponsors, the AGM Huellas de Piedra Foundation, had a lot of work to do.
In an initial response, the foundation analyzed logistics to determine how it could most effectively help communities that would be hardest hit by the outbreak of the pandemic. Assistance was diverse as it endeavored to meet many varied needs. Select goods, foods and services that would constitute a large part of the aid, find the best value for money to acquire the items, coordinate with local authorities, government agencies, other charities and individuals, all with the aim of maximizing the impact of those who provide assistance.
Alfonso Hilsaca Eljadue, AGM Desarrollos, AGM Huellas de Piedra have a reputation for going beyond giving money, for being a driving force in the efficiency and sincerity of corporate giving. The foundation clearly takes initiatives in a way that is not common to corporate donors.
It's one thing to write a check, and organizations around the world depend on corporate donations to continue their missions. AGM The Huellas de Piedra Foundation has exceeded this standard time and time again. They show a sincere interest in helping their fellow citizens. The organization uses a business-like focus on the scenarios it will be involved in, much like businesses would apply to a new service or product.
The same level of intensity and attention to detail that a company might apply to research or market research seems to be used by AGM Desarrollos when researching solutions and donating assistance. The charity always focuses on specific items or services that are most needed, viable, accessible, deliverable, and that may have effective long-term potential to help communities and individuals pursue, create, or maintain their own economic sovereignty.
Kylie Tyler
RiptidePR
+1 800-544-7145
write to us here